Quote:
Photos of them on a car from the orginal thread.... (hope nobody minds me using them?)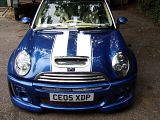 Mikey - are you still going to be doing these? I'm at Uni in Liverpool, so not very far away and would probably be very tempted by a set in the new year when I have some cash!
Black or Chrome for an ALL Astro Black MINI though? hmmmm
James.
Wow. Those Angel Eyes looks awesome! Anyone been able to get them since?
---
Justin
MINI2 Newbie
Join Date: May 2007
Local Time: 08:09 AM
Posts: 6
Mentioned: 0 Post(s)
Quoted: 0 Post(s)
Quote:
bump on this Q
This is a really big pet peeve of mine about these lights... and also that the halos cant be changed out to a different bulb so seamlessly. Any update on this alignment problem?
I got the black ones from newministuff.com. Couldn't find pics of these halo headlights on a chili red car anywhere, so here's mine. I wired up the indicators too, as I think it looks cool, but not too sure about how secure those blue clips are for splicing/connecting wires that comes in the box. Reckon I should lose the bonnet indicators now?
Currently Active Users Viewing This Thread: 1

(0 members and 1 guests)