MiniTorque Racing - A Year In Time Attack
---
As most of you will know, we decided to dip our toe into the world of Time Attack in 2009 at Snetterton after being told by a number of people that Time Attack was one of the best ways to push both car and driver to the limit on track.
Little did we know back in 2009 as the Power Ranger stormed its way to the Superbattle final, that by deciding to enter for the full season in 2010, we would be entering into the most competitive FWD class Time Attack had yet seen. Booked in for the full season were:
Dave Thorpe – TDI North Honda Civic Rotrex
Bo Nielsen – Astra VXR
Jay Mctoldridge – VW Polo Turbo
Ollie Clarke – Ford Fiesta Turbo
David Bayliss – MINI Cooper S
Julian Holdcroft – Honda Civic Rotrex
Nigel Brown – MINI Cooper S
Marco Haig – Fiat Coupe 20v Turbo
Romain Levesque – Honda CRX B18 Turbo
And so it began...
24TH APRIL 2010 - OULTON PARK ISLAND
As we lined up at Oulton Park amongst some amazing cars in FWD class, we knew being competitive in 2010 would be tricky. With just 240whp, a set of street suspension and stock JCW brakes we seemed to already be outclassed in spec but if we could get the set-up right, the natural agility of the MINI might pull us through on the tight and twisty circuits.
As qualifying approached it was going to be tight in the top 5 and with Bo Neilsen having already set a blistering time of 1:37.615 we had to try everything possible to gain the odd tenth here and there. Tyre pressures were tweaked and the suspension at the rear loosened to make the car a bit more communicative at the limit so Dave would know exactly where the MINI could be taken to before a trip into the greenery ensued.
From the pit wall I watched the times from the other cars come in, Dave Thorpe in the TDI North Civic managing a 1:40.763 with fellow Civic driver Julian Holdcroft hitting a 1:41.147. There were only two places left leaving a straight fight between fellow MT entrants Nigel Brown and David Bayliss, Jay McToldridge in the turbocharged VW Polo and Dave in the Power Ranger.
It was clear that the MINI's we're off the pace of the top 3 so I called in Dave to let him know he was over a second off the pace and that he now had to give it his all to ensure a place in the superbattle. With a knowing look in his eye, he shut the door and hammered out the pit lane with just 6 minutes left on the clock giving him just enough time to get the tyres back up to temp before allowing two hot laps to the chequered flag. I simply couldn't watch from the pit wall and instead sat in the garage huddled over the lap-top watching the live times. I shouldn't have worried; on his first flying lap Dave pulled out a 1:41.986, good enough for 4th place leaving it up to the others to battle it out for 5th. Sadly Nigel, following his earlier off into the armco, didn't have the car underneath him to get it done and with a best lap of 1:45.702 was narrowly beaten by Jay with 1:45.226 and DavidB finishing with a 1:52.619.
On coming back into the pits I gave Dave the good news but he knew we still had to do it all again in the final to start the season off with a good points score and he was positive he couldn't get any more out of the car or himself.
As the final rolled round, the results would stay the same as qualifying with Bo in 1st, Dave Thorpe in 2nd, Julian in 3rd and Dave managing to pick up 1:41.918 improving by only seven 100ths of a second showing just how much he'd given it everything in qualifying.
It wasn't a podium but it was a place in the FWD final and we'd finished 22nd out of 26 cars that made it through to the Club Class final and picked up 64 points to start the season.
16TH MAY 2010 – KNOCKHILL
Competing in the north of England is one thing, but a 900 mile round trip to Knockhill in Scotland would be an altogether different journey. Early on we decided that we'd organise the Power Ranger to be taken up in style on the back of a truck with the Club Pro Supra's from the Whifbitz garage as none of us fancied the drive up on mass followed by a busy weekend of Time Attack.
As we waved goodbye to the Ranger on the Thursday we boarded a flight from Luton to Edinburgh on the Friday and truly felt like international racers, well Scotland is a different country after all. The MiniTorque Scottish contingent met us at the airport and drove us to our hotel where it seemed everyone in Time Attack was staying. The Scottishers being Scottishers meant that Friday night would be a messy one but we didn't mind as we'd booked a test day at the track on the Saturday, still, I made sure Dave was tucked up in bed early on after just a couple of beers as we didn't want a repeat of the 'Trev' Milton Keynes incident of 2009.
Having never driven the track before, Dave spent Saturday getting familiar with it as the rest of us did a sun dance to keep the rain clouds at bay for the Sunday. Also on test at this track would be a new addition to the car, water-meth. Whilst we knew we had speed through the corners, the straights were letting us down as the MINI would lose power as the inlet temps rose past 55C so the water-meth was a brilliant addition keeping them below 40C for the rest of the season giving us a couple of extra MPH down the back straights.
However, it was evident that to get a good time at Knockhill meant hitting every apex and not being afraid to launch it over corners that seemed to drop about 3ft at the other side.
I could tell Dave was enjoying the track and the MINI was reacting well, but with Knockhill being Marco Haigs home track we knew we'd have to drive the wheels off the MINI to hustle it round and be in the points again as Marco had missed Outlon Park so we knew there would be at least 4 of us fighting for 5th place in qualifying.
As qualifying started, Julian in the Civic declared himself out having snapped his supercharger pulley shaft giving the rest of us a bit more hope of making qualifying. But then sub one minute times started rolling in with Marco setting a blistering time of 57.982 followed by Bo in 58.573 and Dave Thorpe in 58.941. This left Dave and Nigel fighting for 4th and 5th spot and with Nigel's car now back on pace following his off at Oulton it was going to be a hard fought battle.
With only a few minutes left of qualifying Dave came into the pits and spent 30 seconds explaining how the car was handling corner by corner and it quickly became evident that although the tyres were starting to get up to temperature, the MINI was rolling a bit too much through some of the more complex fast flowing corners and with that we stiffened up the suspension and he went straight back out for two final laps.
Nigel had set a stunning time of 1:01.5 and with gritty determination Dave threw the car into every corner hoping it would stick, it did, and the board lit up with a time of 1:00.356, nearly a second quicker than his previous laps. Job done and both MINI's had made it into the final.
As with Oulton Park we didn't think there was much left in the car or driver and this was confirmed by the computer saying that a theoretical best would be a 59.956. So it was down to Dave to be inch perfect on every apex and with every gear change. Knowing that Nigel still had more left in his MINI with a theoretical best set at 1:00.903 it was going to be the closest battle yet between the two MINI's and any mistake would cost both teams dearly.
Come final time Marco had improved yet again with a time of 57.474 to take the win but Bo had lost his power steering and so had to battle is car to 3rd place with a 58.893 being beaten by Dave Thorpe running a time of 58.288 in 2nd. That left two places and with Julian out it was down to the two MINI's.
Nigel went straight out and by lap 7 had smashed through the 1:01's with an incredible lap of 1:00.544 just 1/100ths off his theoretical best time leaving it all up to Dave to do. As he exited the pit lane all we could do was watch and wait for the lap times to roll in and by lap two he pulled a 1:00.768 out the bag but as we frantically waved our arms at him over the pit wall to go faster for lap 3 he was back round again to start lap 4 but it mattered not as the time lit up, 1:00.060!
Knowing Nigel was staying out to try and beat Dave's time we decided to bring him in to see if any improvements could be made to the MINI to pick up just a few more tenths. A theoretical best showed a 59.916 was possible but Dave couldn't fathom where he could find it, so without telling him we stiffened up the suspension and sent him on his way but it wasn't going to happen, he was now overdriving the car and after a near miss with some gravel, his times wouldn't drop below 1:00.467 and neither would Nigel's as he struggled too running a best of 1:00.891 a tenth slower than his best.
The flag dropped and Knockhill 2010 was over with Dave in 4th and Nigel in 5th. As Marco, Bo and Dave Thorpe celebrated we wondered if a podium would ever be possible against competitors with so much more power than the MINI's. But next stop was Brands, a circuit that favoured handling over power, if a podium was possible anywhere, it was here.
27TH JUNE 1010 – BRANDS HATCH
Brands Hatch has long been one of our favourite tracks and MiniTorque Racing (MTR) is no stranger to it having tested the MINI there on three occasions previously. Paddock Hill bend makes Brands one of the UK's most exciting circuits to drive but it's a track where hitting every apex and balancing the MINI perfectly out of every corner is important to ensure you can get the power down effectively. Due to a shortage of R888's in 205/40/17 we decided to try a set of 195/50/16's on a nice new set of Rota R-Spec alloys courtesy of our sponsor Rarerims.co.uk. As it turned out, the move to smaller lighter wheels, along with the water/meth, was one of the best modifications we made to the MINI in 2010 and the MINI felt better than ever at Brands having run their before with the 205's on Rota Boosts a number of times. But on the day what we didn't expect was ambient temperatures of 31C! All season long we'd been monitoring tyre temps and pressures to try and get the best from the R888's, but we'd yet to battle overheating tyres, in fact if anything it was always trying to get heat into the back tyres that caused the main issues, now the fronts were getting far too hot and going off too quick causing understeer in Druids having stuck nicely in Paddock Hill.
Lots of head scratching and playing with pressures and we got them levelled out to an average 5C degrees across the tyres and equal pressures side to side. Thanks also to the water/meth we were only hitting 40C inlet temps, just 9C above ambient with the GP TMIC so we were good to go for qualifying having been the fastest of the MINI championship contenders in warm-up with a 57.126 and practice with a 56.950 but qualifying beckoned and we knew we needed a podium with Brands being more about handling than outright power.
As qualifying beckoned we looked at the data and found that we were 0.289 off our ideal time of 56.661 with a 56.950 and Nigel was 0.509 of his ideal with a 56.783. Just like Knockhill it was going to be close again but then news came from further down the pit-lane that Marco was out with gearbox problems and Julian was struggling with heat issues putting him slower than both the MINI's, we could almost taste the possibility of a podium but we still had to beat Bo and Dave Thorpe who were both putting in solid 56 second lap times.
Bo Neilsen was in group A so we would soon see what the benchmark time would be and our faces sunk when a 56.024 came up on the board but even worse, his theoretical best was in the 55's. How would we find nearly a second?!?
As we watched Dave go out for the start of qualifying we hunkered round the laptop to see the times come in and then came a huge shock, Romain in the CRX had posted a 56.247 on lap 2 and was the fastest FWD out there followed by Julian who'd set a 56.701 on the same lap. Suddenly the MINI's had it all to do. The laps ticked by and at 5 laps in both Dave and Nigels times were still behind the two Honda's. We bought Dave in to tell him the bad news and told him he had to go faster, his theoretical best was a 56.222 and that's what he'd need to hit to lead group B, but just as Dave came in so did Nigel and he was being told the same, so out they went for one final push.
Up came the lap times - Nigel had reacted first with a 56.445 on lap 8 which left Dave only a couple of more laps to find more time. Then on lap 9 he managed to hit his theoretical best recording a stunning lap of 56.222 taking the lead in group b and 2nd fastest overall in FWD with Romain in 3rd, Nigel in 4th and Julian in 5th beating Dave Thorpe with a 56.701. The final five had been chosen and podium positions were up for grabs if the MINI's could repeat their performance in the final.
As the final approached, we once more checked the tyre pressures and adjusted them to the changing track temperature to try and find the handling balance that had served us well so far in the previous sessions. We set Dave with a target of a 55.9 lap time but going on the previous sessions, the track wouldn't come good until lap 8 onwards so we told him to stay out and get on it early on to set a good time then we'd bring him in if it didn't improve to make some more tweaks to the tyres and tell him how much time he had to find. But already on lap two, Nigel had set a blistering time of 56.126 with Dave only managing 56.241 and his times were getting worse lap by lap being nearly a second off Nigel's times so we bought him in. But just as we brought him in and he came through Surtees Julian in the Civic span nearly collecting another car and when Dave arrived in the pits he said there was oil on the track. Sadly Romains car had let go but this gave us time to change the tyre pressures as the tyre temps were running too high and Dave was complaining of understeer. We told him his times and he was confident he could better them but as he went out for a final flourish, the state of the oil spill became clear, it was over half the track and on the racing line and there was so much chalk dust down it was hard to see when behind another car, there was no way a hot lap was now possible and the lap times proved this with only a 57.618 being possible from Dave and 56.780 from Nigel.
It was over and Nigel's blistering early lap was enough to put him ahead of Dave. As he came into the pits, Dave knew his times weren't good enough and immediately went over to congratulate Nigel on a well deserved 2nd place ahead of him in 3rd but with Bo clinching 1st.
Importantly however was having two MINI's being on the podium, a result both Dave and Nigel badly needed to ensure a strong championship finish as the last two races drew near.
1ST AUGUST 2010 – CADWELL PARK
Another new track to get our heads around and in the knowledge that any off in the tight twisty sections would end in MINI meeting barrier; therefore we booked a track day on the Tuesday before the event to learn the lines and work out the set-up to run on the Sunday.
Sadly though, this would be the day the Power Ranger died. In preparation for the track day, one vital check had been left out – oil level.
After taking it fairly easy on the first few laps it was time to drop the hammer to see how the MINI would react to the tight twisty sections that Cadwell was famous for, but a loud knocking from the engine followed by fault codes meant the session was brought to an abrupt end and a recovery bill for £150 to get it back to 1320.
This was the lowest point of the season so far and it was made worse the next day when 1320 informed us the engine had cooked itself thanks to having only 1.5 litres of oil in the engine. Although 1320 advised that they might be able to fix it in time for Sunday, the costs for parts and labour meant it was outside of the budget we had left for the season. Following talks between Dave and Russ it was decided that Russ would buy the Power Ranger off Dave to use as a track car when the money could be found to fix it and possibly use it himself in the 2011 Time Attack season.
MTR was now without a MINI we posted on MiniTorque that our season was over... Then came a call from Trevor at MiniCraft.
Having seen our thread on MT, he kindly offered us the use of their car for Cadwell with a view to using it for the final round at Snetterton too. This was just two days before the car had to be in the pits ready for warm up on the Sunday so we quickly set about working out what would be needed to make it work in TA – namely brakes, suspension settings, wheels, tyres, sponsor stickers, TA stickers... the list just went on and on and it was apparent that we wouldn't be able to get everything we needed in time. Whilst we knew the MINI would be quick in a straight line, we we're unsure about the brakes and suspension and sadly time did not allow us to make the necessary changes.
Before we knew it, Sunday was upon us and due to time restraints, we were stuck with brakes running green stuff pads, suspension set-up for slicks and drag racing and tyres that were still not on the rims. Did we care? Did we heck. We were back in the game and Trevor and Paul from MiniCraft had turned up ready to do battle.
A mad scramble in the pits to get the car stickered up and the tyres on and up to pressure and we faced our first battle, the noise test, we were 2db over the static limit and having tried all we could to quieten it down, it wasn't working. The TA team kindly agreed to let us run in warm-up but if we failed the drive-by noise test, our day would be over. So now all we could do was pray we stayed off the noise meter radar and get out there to see what the MINI could do.
It was soon apparent that it was devastatingly quick down the straights but on coming into the pits Dave got out and commented "It feels like driving a stock showroom MINI, it's all over the place, I've got no confidence in the corners and the brakes are totally shot". This wasn't what any of us wanted to hear, but Trevor and Paul quickly jumped into the MTR way of thinking and we sat down and worked out what we could adjust to get some speed through the corners, but then the times from the other cars came in and we soon realised what an uphill battle we had ahead of us.
Bo had run a 1:41.812, Marco a 1:43.731, Nigel a 1:45.171 and Julian a 1:46.974 - the only upside was that we were in 5th as sadly Dave Thorpe in the TDI Civic had blown his engine at Brands and like us didn't have the budget or time to get the car back before the end of the year. However, our time of 1:48.755 put us a massive 3.5 seconds behind Nigel and nearly 7 seconds behind Bo!
How could we ever claw that much time back? Well without being able to change the camber, spring rates and being unfamiliar with the suspension dampening, we decided in the short time we had left to play with the tyre pressures to try and counteract the camber by making the tyres grip harder by getting the temperatures at each corner into their comfort zone as they were simply all over the place. Also, being unable to move the fixed bucket seat, we had to find a way of making Dave more comfortable in the cabin, cue a bit of polystyrene to move him further forward in the seat, simple, but it worked a treat.
After re-calculating the tyre pressures we sent Dave out in the next session bringing him in after a few laps to re-check them and adjust accordingly whilst also giving the brakes a chance to cool. I was dreading the conversation with Dave about how the MINI was now handling but as soon as I opened the door he said, "I don't know how you've done it, but it feels a million times better in the corners but the brakes are still shocking, I'm having to brake far too early, but on the plus side it feels superb down the straight".
This was music to my ears and Dave's enthusiasm for the changes was backed up. Having checked the mobile timing data we found we'd picked up 3.3 seconds on our previous time closing the gap to Nigel, who'd gone quicker still by 0.5 seconds in this session, meaning we were now only 0.8 seconds behind him. In picking up this time we were still in 5th place meaning if we could stay there in qualifying we'd make it through to the final and pick up some much needed points.
Qualifying time and after tweaking the tyres further still as the track temp changed and praying the brakes would stay in one piece, Dave went out and threw everything he had at the track. In came the times, would it be enough to get us into the final. 1st Bo in 1:40.938, 2nd Marco in 1:42.056, 3rd Julian in 1:43.428, 4th Nigel in 1:44.575 and in 5th Dave with a 1:44.912 just ahead of 6th place Romain in 1:45.757... we'd done it and we started celebrating knowing that just by getting into the final the points we'd score would put is in 2nd place overall in the championship with just Snetterton left to run.
But celebration once again turned to dismay when we got back to the pits and discovered the supercharger belt was badly frayed, it looked like we might not make it after all, we couldn't tell how long the belt would last and we didn't have a spare.
It was superbattle time and Dave gingerly drove the car down to the pits and started a nice slow out lap. Tyre pressures changed yet again to reflect the change in track temperature which had jumped up and down by a massive 12C over the course of the day and we were on the pit wall praying the supercharger belt would stay in one piece.
News came through that Romain was out with engine trouble after just two laps and then on the same lap, as Dave came over the mountain section, we heard a pop, the supercharger belt had gone. Our best time just 1:46.644 and our average mph had dropped by over 2mph over the lap, it was clear that the belt had only managed to give us a reasonable lap time, but it was enough to finish 4th with Nigel getting another great podium in 3rd with a stunning lap time of 1:43.408 just 0.08 of his theoretical best.
But Cadwell had claimed another casualty from the FWD class when Romain's CRX engine expired it dropped oil on the track which sent Julian off track at over 120mph causing thousands of pounds worth of damage. He wouldn't be making it back for Snetterton which meant 2nd and 3rd in the championship were all to play for and would be fought by the two MiniTorque MINI's.
10TH OCTOBER 2010 – SNETTERTON
Having been blessed with dry weather all season long, the week before Snetterton looked very wet. However, I shouldn't have worried, having spoken to Glen, one of the co-founders of TA a couple of weeks before the event, he assured me that there would soon be a four day hot spell and the event would definitely be dry. Well the met office has nothing on Glen as his prediction was spot on!
The championship standings for Snetterton meant the only way MTR could win the title would be if Bo didn't make it to qualifying and we finished 1st in the final, something that wasn't likely to happen. But then on the day before the event both Dave, Bo and a number of other TA contenders met up for a track day at Snetterton to begin testing for the final round.
The unthinkable happened - Bo's car blew a head gasket and was very sick indeed and Nigel's car was popping drive shafts. It's at this point you'd think that we'd be pleased to hear others were having issues, but when you've fought hard all season with competitors you've got to know personally, the last thing you want is to win something by default, we would much rather battle it out with Bo and Nigel right to the end of the superbattle final. But it wasn't looking like they'd even make it to the superbattle and then suddenly the MTR MINI decided to grow a conscience and started overheating when at full chat! Could we all be jinxed or was this going to be the final test of us all after a hard fought year so far?
D-day, well TA day was soon upon us and news reached us that Bo and Nigel had been working on their cars most of the night and they were ready to compete but there was a question over how long they'd last. Our own cars problems was found to be stretched head bolts which had more than likely been down to the massive amount of nitrous the car had been dieting on at recent trips to Santa Pod whilst hunting for 10's. But importantly we were all there and ready to attack the track.
Having had plenty of time to get to grips with the car since Cadwell Park, we had new brakes with our trusted Carbotech pads inside but sadly our nitrac 16 groove discs hadn't turned up in time. However we did have some R53 JCW Challenge discs so we installed these instead but the braided lines we had refused to fit but thankfully Lohen, who had booked in to run in this last event themselves, had some on the shelf so they brought a set with them (thanks Emma!).
So with brakes sorted, supercharger belt issues solved, a new FMIC from Spec-R, some new holes in the bonnet to vent manifold heat, a new scoop to ram air into the CAI, an R56 Challenge rear diffuser, GP under-trays, some new Rota R-Spec 16" wheels, a brand new set of 195/50/16 R888's, a full set of brand new SFS hoses, suspension set-up for Snetterton, a remap to make the most of the new I/C and a few hours spent working out tyre pressures to make the most of the fast sweeping right hand bends...we were good to go!
As Dave left the pitlane for the warm-up session, we were confident of setting some competitive times. Then the day slowly started falling apart. After just one lap Bo's engine let go again and he was back in the pits with clouds of white smoke coming out the rear.
Dave had completed three laps so it was time to bring him in to check everything was working as expected and as he rounded the last corner and peeled into the pitlane we stood there waiting for him to make his way to the pit garage. But before he'd even reached the first pit garage the front of the car burst into flames and he came to a stop. We could see him scrabbling around inside to engage the fire extinguisher and with the flames already licking at his feet in the cabin he pulled all the switches and all we could do is watch as the marshals ran over to try and put out the flames still pouring from the bonnet. Dave quickly got out the car as the marshals continued to get the blaze under control as he stood there in amazement at what had just happened.
With Dave badly shaken, the engine bay looking like a volcano had just erupted and Bo and Nigel both out we thought the day couldn't get any worse. Then as the next session started and we wheeled the MINI back to the pits, we heard the session had been stopped and Dave Bayliss was nowhere to be seen. It turns out he'd gone off on his outlap and he'd been taken to hospital to be checked over. The only championship contender still in place was Romain, but with only a few points to his name, the main contenders were all out, even Julian was here even though his car wasn't and his 3rd place at this point was still looking safe with Nigel having issues. Our best time before the fire, 1:28.862, over 7 seconds behind Romain!
There was only two hours until the next session and Dave and I were sure that our day was over and the best we could hope for was finishing the championship in 3rd with Nigel in 2nd if he could get his MINI working in qualifying. But Paul from MiniCraft told us to give him an hour and he'd have it running again so we skulked off to a lonely corner to await the news but to be honest we weren't hopeful, the engine bay looked like a write-off.
A call came through from Trevor that Paul was ready to start the MINI to see if it would live again. We raced over and stood there with everything crossed willing it to fire, bad choice of words, willing it to start. It started first time and Paul turned to us and said "told you I'd have it started and it's only been 45 minutes". We were stunned, not only was it working but it sounded fine. All we needed now was to borrow a new fire extinguisher (thanks Richard) and get it scrutinised again by Marc. It passed first time and we were ready to hit the track.
In Practice we decided to take it easy and just coast round to check everything over and then save the engine until Qualifying just to be on the safe side. At the end of practice the leaders were Romain in 1st who was absolutely flying with a time of 1:19.053, 2nd was Nigel having solved the driveshaft problem but still suffering with overheating issues but who set a great time of 1:23.713, 3rd was Ollie Clarke in the Fiesta with a time of 1:24.409.
Bo now had no alternative but to borrow a nice red Astra VXR from a friend and compete in that after his own car had finally given up the ghost. They bought some tyres from another competitior, stickered up the new car and it was good to go. Although it wouldn't be as competitive as his own car, it would be enough to get him through qualifying and hopefully into the final.
The last qualifying session of the season was upon us and it was time to pray to the motoring gods that the MINI would hold together. Dave was under strict instructions to be competitive enough to qualify but not go flat out just in case. It worked, by end of qualifying the results were: 1st Romain in 1:19.278, 2nd Dave in 1:22.143, 3rd Ollie Clark in 1:23.639, 4th Nigel in 1:24.046 and 5th Bo in 1:24.888.
All the usual suspects had made it through to the final and now it was the battle royale for 2nd and 3rd in the championship between Dave and Nigel as Bo was clear of Dave in 1st place.
As the final approached Dave Bayliss had made it back from hospital having been checked over and given the OK which was great news. Better yet he was determined to come back next year, something we all enjoyed hearing.
Final checks to the MTR MINI were made with tweaks to the tyre pressures and the engine checked over one final time. The whole season had boiled down to this.
As Dave tightened his harnesses, I leaned in and said, "this is it mate, the settings are spot on. I promise if you push it to the limit it will stick so just go for it and lets finish the season on the podium!" to which he replied, "Ok, I'll give it everything but if I'm quicker than Nigel, let me know by giving me the thumbs up from the pit wall."
As he made his way to the pit-lane I made my way to the pit-wall with Trevor and Paul for one last time.
As the MINI flew by on its first hot lap it looked quick and as we waited patiently for the times to come through Nigel flew past also looking quick. It was going to be close.
Nigel's time came through first, 1:22.235 quickly followed by Dave's, a barely believable 1:21.618, then as Nigel came round for his next lap, he pulled off and onto the grass, his engine had overheated for the final time and he was out and making his way very slowly back to the garage.
Dave's next lap was a 1:21.336 even quicker than before but with Nigel out we decided to bring him in. As he made his way to the pits I opened the door and asked him how it felt, his reply, "incredible, it's like its on rails and it's pulling like a train". With that I told him Nigel was out and he was currently 2nd fastest behind Romain who'd done a 1:18.936.
We knew we'd never catch up but as the four of us looked at each other we thought 'what the hell' and sent him out to chase down a 1:20. Two cooling out laps left time for one final flying lap and as Dave headed toward the start finish line the MINI again looked quick and then the time came through.
Dave pulled into the pits to see Trevor, Paul and I waiting for him shaking our heads looking a little glum. As he pulled up and I opened the door and leant in and just said "1:20.916". Dave repeatedly punched the air like he'd just won the race and with that turned off the engine and gave the MINI a pat on the roof on the way out.
We'd done it... 2nd in the Superbattle, 2nd in the championship and a 1:20.916 to finish of the season, a full 1.4 seconds quicker than last year and importantly 0.742 seconds quicker than the fastest R53 Cooper S Challenge car on slicks, something we'd been trying to beat all season.
But the best news was that Nigel's time was good enough to give him 3rd place in the Superbattle giving him enough points to beat Julian for 3rd place overall in the championship.
Two MINI's on the podium in their first year of Time Attack in the most competitive FWD class the organisers had ever seen.
From a challenge to enter Time Attack last year to prove our MINI's could be quick in something other than drag racing, to 2nd place in the FWD Time Attack championship in under a year.
PROOF OR STFU... DONE!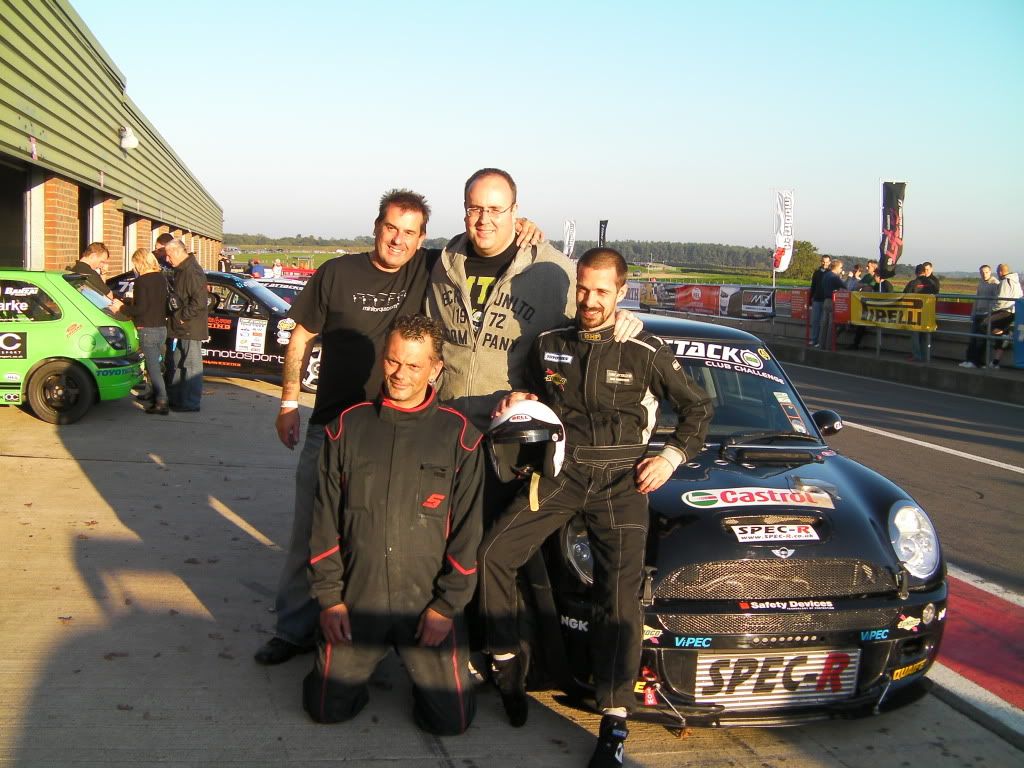 But we're not stopping there as we're already planning for next year. We've found one of the most addictive forms of motorsport and next year we want to win it. MiniTorque Racing will be back - bigger, better but importantly faster than ever.
So all that's left to do now is to now is for Dave to thank those that enabled him to compete:
SPONSORS
VI
– For providing us with the finances and to help make our Time Attack dreams a reality and for the VI Monitor that helped us make the MINI faster
RareRims
– For providing us with super strong, lightweight and stylish alloy wheels that have stood all the punishment we can throw at them.
A.R Clarke (Builders) Ltd
– For the financial support and use of the airfield for testing
MagneticOilDrainPlugs.co.uk
– For supplying us with Dimple products which helped protect both our engine and gearbox from contaminants.
MeisterR
– For supplying us with an amazing set of fully adjustable coilovers on the Power Ranger that took the abuse the kerbs at Brands, Cadwell Park, Knockhill and Oulton Park along with countless road miles to and from the tracks in TA and testing.
Rybrook Stratford
– For cut price parts that kept us going throughout the season
Whalen Shift Machine
– For the stunningly designed gear knob that was as good to use as it was to look at
Kavs Motorsport
– For the supercharger pulley that was faultless throughout
Hybrid Air Intakes (Dave.F)
- For the free CAI that just kept on performing
Forge Motorsport
- For the new header and power steering tanks
Detailed Technique & Premium Detailing
– For keeping the MINI looking pristine
Opie Oils
– For the supply of oils and fluids for the season
Matt Woods Photography
– For the supply of the stunning shots of the Power Ranger
David Sargent at SFS Performance
– For the supply and fabrication of custom SFS hoses
Pete at Spec-R
– For the supply and fabrication of the custom FMIC
Mark Shead at M.A.Developments
– For the custom tuning work on the ViPEC ECU
PEOPLE:
Russ (Ruskins)
– For all your help support and with the Power Ranger, you are, and always will be, an integral part of MTR and a great friend.
Trevor and Paul (MiniCraft)
– for 1) Allowing us to keep on racing when no other options were available to us and for making us realise that it's when you're down and out and with nowhere to turn, how amazing it is when someone offers you a lifeline. 2) Showing us that as a team we can work together to make it happen if we trust in each other to get the job done.
Joe (Sef)
– For being so loyal in your support of MTR and for helping with bringing in sponsors and for organising the MT stands at each event. We really couldn't have done it all without you.
Glen, Andy, Rob, Al, Marc and all of the Time Attack/Modified Live Team
– for making us feel so welcome and for encouraging us to compete in one of the world's most exciting forms of motorsport.
Adam Foster (adamfostergp)
– For help with racing lines and the words "power....Power...POWER!"
Paul Webster (1320MINI)
– For the words "you'll just have to go faster".
Fellow Team MiniTorque Competitors
– For demonstrating to the rest of the car world just how quick a MINI can be on track, hope to see more of you MINI owners entering TA next year.
Team MT
- For all your help behind the scene and at the tracks
MiniTorque Members
– For your support for MTR and all the other MINI teams entered in TA this year.
Fellow TA FWD Competitors
– For the banter and the competition, looking forward to more of the same next year.
MiniTorque*****
MINI2 Newbie
Join Date: Jul 2010
Local Time: 02:02 PM
Posts: 2
Mentioned: 0 Post(s)
Quoted: 0 Post(s)
nice write up mate,also it was nice to meet some of you at the brands round.
MINI2 Newbie
Join Date: Jan 2011
Local Time: 02:02 PM
Posts: 4
Mentioned: 0 Post(s)
Quoted: 0 Post(s)
Currently Active Users Viewing This Thread: 1

(0 members and 1 guests)