MINI2 Regular
Join Date: Jul 2005
Location: Paris
Local Time: 06:26 PM
Posts: 112
Mentioned: 0 Post(s)
Quoted: 0 Post(s)
MCS arrived missing sport/eco, black headlights and Hidden compartment
---
Hi all,
The girlfriend's MCS just arrived and because the dealer she ordered it from seems to be a complete idiot, I'm turning to the source of all good info I ever got for my MCSC when I had it.
The car should have had the following items but they are missing, even though the dealer (in paris) confirmed it was included.
- Sport/eco button and therefore the nice exhaust note with eventually the crackling I so loved and she hoped to have.
- The hidden compartment she wanted.
- The black headlights (said to be standard equipement on MCS)
Do some of you know what can be added (no problem with DIY) because the dealer said nothing could be added and I have a really hard time believing it, specially for the hidden compartment.
thanks for the help
Sebastien
MINI2 Master
Join Date: Mar 2012
Local Time: 06:26 PM
Posts: 3,829
Mentioned: 0 Post(s)
Quoted: 53 Post(s)
You can add the headlights but they arent cheap of course.
I suppose a hidden compartment can be fitted also, but you cant get much in it, I dont use mine, its too small to be of much use, packet of Polo's maybe.
Sport button I thought would be standard on the S? but if its not there then the wiring isnt either and it might be a job to add it now.
Mind you, is this brand new F56? model, they might have changed all the features from what they were and the Sport button is now a chargeable option, theyre crafty like that and the dealers arent up to speed on whats what half the time either, all they want is an order.
Here is my spec list, this is UK though, so may be different for france?
From that it looks like the driving modes comes with the chili pack, did you add that?
Annoying that your dealer didn't talk you through all of this...my dealership were great at explaining all the options, and even honest in telling me they wouldn't waste their money on certain options.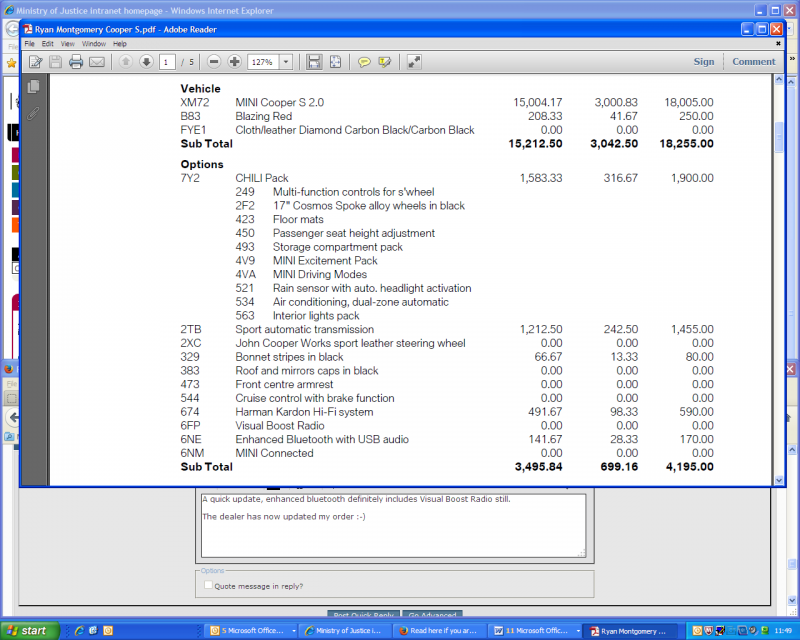 Cheers,
Ryan
Currently Active Users Viewing This Thread: 1

(0 members and 1 guests)