Seems like every year I end up doing a little more on Ellie, my MINI Cooper S.
The first summer it was a +3% crank pulley and uprated brakes as the main things.
The second summer a manifold, uprated brakes (again) and an intercooler.
This summer is a little more drastic. Here are a couple of pictures from the first day of work.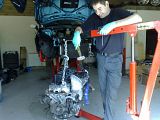 She looks a sad state with no engine or wheels
I'm going over to
ThinkMINI
tomorrow and/or Saturday to take a few more pics and to do some work on the Ellie.
So whats happening this year? New clutch, flywheel, uprated brakes (yes, again) and some aero sideskirts is a good start. I'll reveal the rest as it happens.