I will admit i have gone a bit mad with blue LEDs in my car atm, poeple who read my door lighting mod post will understand,
but i think i have finally got the effect i wanted with my dash lights now.
Originally i was going to get it done profesionally by EssentialMINI, but due to not being able to get through to him and all this jazz about global money issues, i decided to do it myself.
I read up on how to remove the units, £10 later i had meself 75 blue and white LEDs off ebay, and i set off. Took me the good part of a weekend to get it done, and if im really honest i had to buy a new rev counter as i nackered the dial motor in the original
opps, but luckily 4 me there was 1 on ebay for 35 quid so not all bad, so i practiced soldering on the one i nackered before hand.
Mid way through: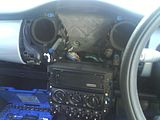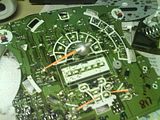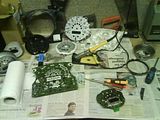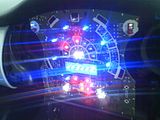 after alot of cursing and 3 soldered fingers
here are the results: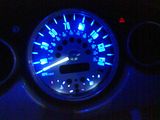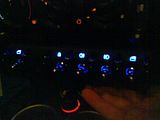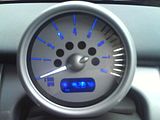 P.S, the LCD screens do look a bit naf at the moment i, they need new clear light filters as the originals were amber, so still a tiny bit of work to do