Hi all, I'd like to introduce you all to RUO, its taken me a while but I've finally splashed the cash, after much fraught 'negotiation' at Castle MINI in York. Here he is....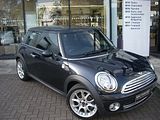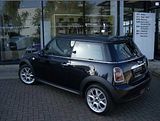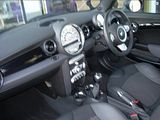 He was registered in March 2007 (an 07/07 car in UK speak!) and has the following:
Astro Black Metallic Paint
Roof & Mirror Caps in Body Colour
71" Web Spoke Alloys
Anthracite Roof Lining
ASC+T
CHILI Pack
Chrome-Line Interior
Comfort Access
Heated Mirrors/Washer Jets
HiFi Speaker System
Interior Trim Piano Black
Manual Air Conditioning
Metallic paint
Mirror Caps In BodyColour
Multifunction for S/Wheel
Nationwide Delivery Avaliable
Visibility Pack
Without COOPER Badge
Im also having an iPod interface and a chrome filler cap fitted before delivery on the 6th December. Also considering having the COOPER badge put back on - people might think RUO is a ONE!
One question, RUO seems to be an early build without the "secret storage" compartment above the glovebox - is this easily/cheaply refitted? Ive read stories about it being "sealed" on early cars - can anyone shed any light?
Im well chuffed - ony 15 sleeps and an Exam between here and pick-up, I can't wait!
Brian.
p.s. Cheers to Patrick @ Castle MINI, really pleasant guy to deal with.