Discussion Starter
•
#1
•
After being ordered on Saturday 15th September 2007, I finally picked up my new Cooper D today!!
Last night I was really unsure about the whole thing for some reason, but by this morning I was fine again and actually really excited. Went to the dealers early, 08:10am
signed the rest of the paperwork and paid up. Went out to the car for the handover, going through all the Nav etc, then we tried the Ipod, salesman plugged it in…nothing…tried again…nothing.
He said it might need re-coding so took it to the workshop for me. 10 minutes later I was told that recoding wasn't going to work, the unit was faulty and needed replacing…by this time I was nearly in tears
. I told them I wanted it fixing as I wanted the car perfect so the sales manager gave me the keys to his Clubman S and said I could take that till mine was done
Just over an hour later I got a call to say my car was fixed and off I went again to collect my new baby!!
Top job Specialist Cars
Spirits were dampened slightly by the whole 'episode' but ive now got a set of free rubber mats on there way
and I absolutely LOVE the car!! She's brilliant, everything works perfectly, WOW!
Its really different to drive to my MINI ONE, its smoother, but its just as fun, though im being good and running it in
Here is the spec of 'Puzzle' (Little Bugger was more the term this morning
)
MINI COOPER D
Chilli Red
White Roof
White Mirrors
White Bonnet Stripes
Clth/Lea Ray Carbon Black
CHILI Pack
Rear Spoiler
17" Webspoke Alloys
Automatic Air Conditioning
Multi-Function Steering Wheel
Exterior Mirror Pack (inc Heated Mirrors & Washerjets)
Chrome Line Exterior
Smoker Pack (don't smoke but want the ashtray
)
Colour Line Dark Grey
Additional Décor Rings
Interior Trim Fluid Silver
Bi-Xenon Headlights
White Indicator Lenses
Sat Nav
Ipod Interface
JCW Aero Kit Side Skirts
Custom Jigsaw Roof - thank you Phil @ MINI Pirate!!
Coming Soon :
JCW Side Indicator Grilles
JCW Aero Kit Front Grille
Now onto the important bit - pics!!!
Just delivered :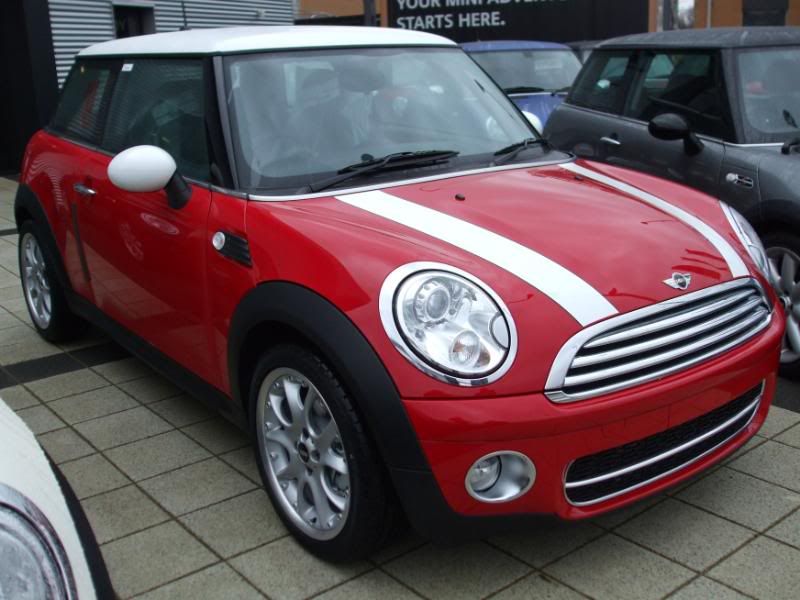 Side Skirts fitted + The long awaited roof graphic
: