·
Obsessive Car Cleaner OCC
Discussion Starter
•
#1
•
Well with all the runs ive been going on with my back seats out for more storage space and to save weight i thought id make a rear seat delete kit.
Got a Peice of 6mm MDF from B&Q made a template and cut the wood to shape. Covered it in a peice of Bass Box carpet and its in
The carpet is not the same coulor but as i got that free and the wood only cost me a fiver im not to bothered.
Its held down by 2 peices of 10mm dowl wrapped in carpet and the rear bolt.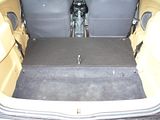 I left the rear seat clip in soif needed it takes me around 2 minutes to put the rear seats back in with only 1 bolt to mess about with.
People say (including me) why put something back in. Well i took about 40-50 pounds off weight out and place 5 back in. Plus this looks much better IMO.
Scott